....Perfumes..Parfums....
....What is a niche perfume or rare scent? It is a perfume created and imagined by independent perfume houses, produced in small quantities and little distributed. A free, astonishing, moving perfume that will mark your imagination. Most of the perfumes we know are mass-produced, designed to be sold in department stores and airports all over the world the world, they exist to please the largest number of individuals on the planet. The ones we offer are the opposite. They are designed in a spirit of discovery, exploration and we offer them exclusively in Montreal. .. Qu'est-ce qu'un parfum de niche ou parfum rare ? C'est un parfum construit et imaginé par un ou des créateurs indépendants, produit en petites quantités et peu distribué. Un parfum libre, étonnant, émouvant qui marque notre imaginaire. La plupart des parfums que nous connaissons sont des produits de masse, conçus pour être vendus dans les grandes surfaces et les aéroports du monde entrier, ils existent pour plaire au plus grand nombre d'individus sur la planète. Ceux que nous vous proposons sont à l'opposé. Ils sont conçus dans un esprit de découverte, d'exploration et nous vous les offrons en exclusivité à Montréal pour que votre sillage devienne unique et qu'il vous enchante. ....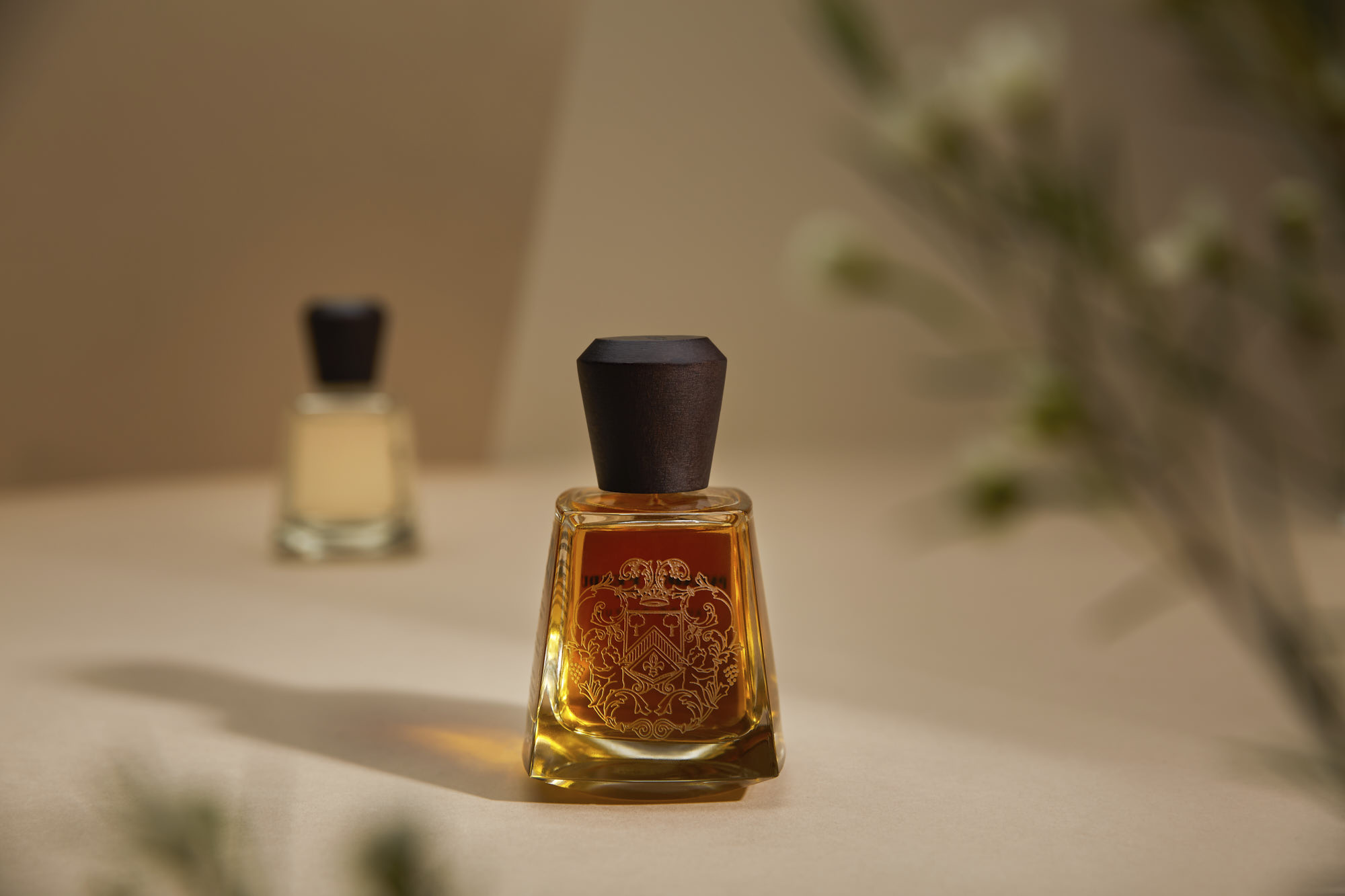 ....
The quintessence of land and time. Of sensuality and emotion. Of French know-how and art de vivre. Since 1270, the artisanal, family-owned Frapin has been refining its methods of producing cognac, controlling each step of the process. It is extend to approach and underline the relationship between two exceptional crafts, Frapin have decided to offer scents inspired by our cognacs, our history and our land.
..
Quintessence de la terre et du temps. De la sensualité et de l'émotion. Du savoir-faire et de l'art de vivre à la française. Depuis 1270, Frapin, maison artisanale et familiale, raffine des méthodes de production du cognac dont elle maîtrise à la perfection chaque étape. Pour prolonger cette démarche et souligner la complicité entre deux savoir-faire d'exception, Frapin a souhaité proposer des parfums inspirés de son histoire et de son terroir.
....
....Available in store..Disponible en boutique....
....
The main goal of J.F. Schwarzlose is to establish a link between Berlin and the rest of the world. The creators want to revive this prestigious label born in 1856.
Veronique Nyberg, the nose of the brand, chooses the most precious natural ingredients, for their extravagance, brilliance and power. She combines them, creating exquisite alliances, luxurious and refined, a tribute to the splendors of Berlin. Seven fragrances make the brand, including Altruist, winner of The Art and Olfaction Awards 2017 in the "Independent category".
..
Créer un lien entre Berlin et le reste du monde, voilà l'objectif du trio qui a ressuscité J.F. Schwarzlose, cette grande marque de parfums qui existe depuis 1856.
La parfumeuse Véronique Nyberg choisit les ingrédients naturels les plus précieux, pour leur extravagance, leur brillance et leur puissance. Elle les combine, en créant des alliances exquises, luxueuses et raffinées, un hommage aux splendeurs de Berlin.
Sept parfums composent aujourd'hui la marque, dont Altruist qui vient de remporter le Art and Olfaction Award dans la catégorie parfum Indépendant.
....
....Available in store..Disponible en boutique....
....
ORIGINO is a base composed of a cocktail of musks, Invented by the independent perfumer Vanina Muracciole. This "ball of musks" concentrated into a perfume extract marks nothing less than a new beginning. While the small bottle makes an ideal everyday accessory for the urban nomads we've all become, the perfumes themselves are a Lingvo Internacia (international language) in the art of seduction. They remind us that, sometimes, fragrance is infinitely more efficient than words.
..
ORIGINO est une base créée autour d'un cocktail de muscs, inventée par le parfumeur indépendant Vanina Muracciole. Cette «boule de muscs» concentrée en extrait de parfum, est l'origine même pour François Hénin, (parfums et boutiques Jovoy), de la création d'un tout nouvel univers olfactif. Si le petit flacon est un accessoire idéal du quotidien des nomades urbains que nous sommes devenus, les parfums sont une Lingvo Internacia (langue internationale) dans l'art de la séduction et nous rappellent que parfois, ils sont plus efficaces qu'un long discours.
....
....
BDK PARFUMS, is an independent perfume house based in Palais Royal, Paris.
The House proposes qualitative and distinctive fragrances, inspired by characters, movements, silhouettes and moments. These creations all have a common a universe centered on words and tales, halfway between fantasy and reality. No preconceived formulas in this House, we are in presence of conscientious artisan work enabling the creation of exceptional fragrances.

..
BDK PARFUMS, est une Maison de parfumeur créateur indépendante basée dans le quartier du Palais Royal à Paris.
Elle propose des fragrances singulières et de qualité, inspirées de caractères, de mouvements, d'allures et d'instants. Ces créations ont en commun un univers centré autour des mots et du récit, à mi-chemin entre contes imaginaires et réalité. Ici, pas de feuille de route prédéfinie, il s'agit d'un travail d'artisan consciencieux permettant de créer des fragrances d'exception

....
....
Rania Jouaneh, perfumer and ''nose'' imagines and conceives natural perfumes based on contemporary and refined fragrances. Rania got her passion for scents and essences from her childhood spent between Orient and Africa. Today, Nature is at the heart of her creations, renewed with modernity and sensuality. Her compositions showcase noble and rare essences, respecting their richness and olfactory complexities. Her perfumes are authentic and sophisticated. She sees perfumes as an accessory, to be worn like jewelry.
..
Rania Jouaneh, parfumeur et nez, imagine et conçoit des parfums naturels aux fragrances contemporaines et raffinées. De son enfance en Orient et en Afrique, Rania tient sa passion pour les essences et le parfum. Aujourd'hui, la Nature reste au centre de ses créations, revisitée avec modernité et sensualité. Ses compositions mettent en avant des essences nobles et rares en respectant leurs richesses et leurs complexités olfactives. Ses parfums sont authentiques et sophistiqués. Elle envisage le parfum comme un accessoire à part entière, à porter comme un bijou.
....
....
Founded in 1902 by Guillaume Berdoues in the heart of the city of Toulouse in France, Maison Berdoues has been developing perfume creations for more than a hundred years, applying the practices of high French perfumery. The perfumes are the result of a unique expertise of these four generations of perfumers, embodied in original and single-mindedly contemporary creations. We offer you in store the Berdoues Grands Crus collection that tells a story from the land it comes. Rare and precious assemblages defined by their incomparable quality of their geographical identity.
..
Maison Berdoues a été fondée en 1902 par Guillaume Berdoues au coeur de la ville de Toulouse en France. Elle développe des créations parfumées depuis plus de cent ans, en appliquant les pratiques de la haute parfumerie française. Les parfums sont le résultat d'un savoir-faire unique de ces quatre générations de parfumeurs, incarné dans des créations originales, résolument contemporaines. Nous vous proposons en boutique la Collection Grands Crus qui raconte des histoires : celles de la terre dont les parfums sont issus. Des assemblages rares et précieux, définis par leur qualité incomparable autant que par leur identité géographique.
 
....
....
Riccardo Goti is an Italian designer of fashion and accessories who launched his original perfume line in collaboration of the oldest and pharmaceutical Italian house — Santa Maria Novella. We offer in store Alchemico, his new perfumes collection — Each fragrance embodies a particular scent, curated for a particular personality. All made from natural ingredients according to traditional methods. These three, beautifully unique and unisex fragrances are packaged in a handmade sculpture of brass...
Riccardo Goti est un designer Italien de mode et d'accessoires qui a lancé sa première ligne de parfum en collaboration avec la plus ancienne et pharmaceutique maison Italienne — Santa Maria Novella. Nous vous proposons Alchemico, sa nouvelle collection de parfums qui incarnent tantôt l'eau (Acqua), la terre (Terra) ou encore le feu (Fuoco). Tous fabriqués à partir d'ingrédients naturels selon les méthodes traditionnelles., ces trois parfums incroyablement uniques et unisexe, sont emballés dans une sculpture artisanale en laiton doré, faite à la main.
....
....
Christopher Brosius, the famous nose who create CB I Hate Perfume is based in the heart of Brooklyn, New York. He is a born artist, considered to be the most innovative perfumer of the 21 st century. He describes his work in three words, "Scent is life". In store, we carry a beautiful part of his very large olfactory universe, full of memories: In the Library, 7 billons Hearts, On a clear day you can see forever, Memory of Kindness, Burning leaves, Under the arbor, November, etc.
..
À l'origine de cette marque pour le moins hors du commun, le célèbre nez Christopher Brosius, un new-yorkais de Brooklyn. C'est un artiste né, considéré comme étant le parfumeur le plus innovant du 21ième siècle. Ildécrit son travail en trois mots, « Sentir, c'est vivre ». Nous avons en boutique une dizaine de ses créations toutes plus étonnantes les unes que les autres et qui évoquent des souvenir: In the Library, Under the arbor, Memory of Kindness, Burning leaves, On a clear day you can see forever, 7 Billion Hearts, November, etc.
....
....
Liquides Imaginaires was created by Philippe Di Meo to revive the ceremony and ritual by developing new objects and alternatives habits. These fragrances are like puzzles, they are used to interpret thoughts, intentions and confessions. They memorize passages of life, desires, beliefs, strengths and weaknesses. Volatiles bodies that help leave the material world and cross into imaginary, intimates worlds, where the spirit scatters to explore other horizons and new desires.
..
Réinstaller un cérémonial, un rituel parfumé en développant de nouveaux objets et d'autres gestes. C'est de ce souhait que sont nés les Liquides Imaginaires de Philippe Di Méo. Ces parfums, tels des énigmes, servent à interpréter des pensées, des intentions, des aveux. Ils mémorisent des passages de vie, des envies, des croyances, des forces et des faiblesses. Corps volatils qui aident à quitter le monde matériel pour pénétrer des univers imaginaires, intimes ou l'esprit s'évapore, explore d'autres champs et de nouveaux désirs.
....